THE WIDE RANGE OF PURPOSE BUILT PACKING MATERIALS WE USE FOR YOUR PACKAGING

Here at Marble Arch Removals we also offer packaging services. We have been offering this service for more than ten years now and our portfolio of clients includes both corporate and individual clients. We are well known for using only purpose made packing materials and the latest of what is available in the market. Along with that we have years of experience and skills and we make the best use of traditional proven techniques that ensure the safest shipment of your belongings.
We understand that packaging itself is a specialist skill and that is why we have only hired the best of the best to help you with your packing. We have separate teams dedicated for office packing purposes and for domestic packing purposes. We understand how different the nature of both these two packing is and the type of work and effort that is required for both. This is why we have highly specialized and skilled workers that have been trained to do your packing in the best possible manner. If you want to leave your packing in the hands of our professional staff, then just call us at 020 8746 9644 to book your service now.
For home packing, our staff wraps each item of your furniture individually. We have special covers that are used to neatly cover and pack your upholstery in to keep them clean from dust and dirt. We have portable wardrobes in which we pack all your clothes and have separate cartons for your CD collection. No matter what kind of item you have at your house, our extensive range of high quality and purpose made packing materials are all you need for the safe and secure shipment of your belongings. Items that are more vulnerable than others are packed safely into high quality cases made of timber. We also mark all your packages and parcels clearly by labeling each box with what room the contents came from or which room they will be unpacked in. This helps you organize things much better when you arrive in your new home and you know exactly where to place each box and where its contents should go.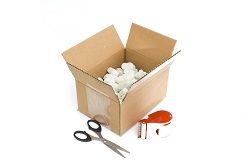 If you desire to do you packing yourself but would just like us to help you by providing you all the required packing materials and boxes, we are happy to do that. We can deliver all the packing materials and moving boxes to your house well in advance so that you have ample time to organize everything on your own. We have high quality wardrobe boxes that are made with a strong double walled exterior and are designed so that you can hang all your clothes in it. This wardrobe box comes with a closing door and a top that can be sealed for added protection. These boxes have a plastic rail inside them so you can hang all your clothing. This is an invaluable moving box as it saves you ample amount of time which otherwise would have been spend on folding all your clothes and packing them in boxes. In the bottom of these great wardrobe boxes there is even space for your handbags and shoes. These boxes can even be used later as a storage area for your winter clothes in summer or your summer clothes in winter.
Our other range of double wall boxes are suitable for items that are fragile, books, other heavier items, videos, CDs, records, and smaller appliances. We have this box available in a larger size which is suited for storing larger items like household appliances. Call us now at 020 8746 9644 to book our packing service.